Get your
hands dirty
Clay is good for the skin and soul.
Theraputic and beneficial to your health
Watch Video of Classes
Art Therapy
Create beautiful works of art
while relaxing in a stress free environment
Sculpture Classes
Welcome to my Art Therapy!
Learn to control Stress. Depression and Anxiety should not be a normal part of our life. Let me help you develop your hidden creativity and create a work of art in clay that you will be proud of.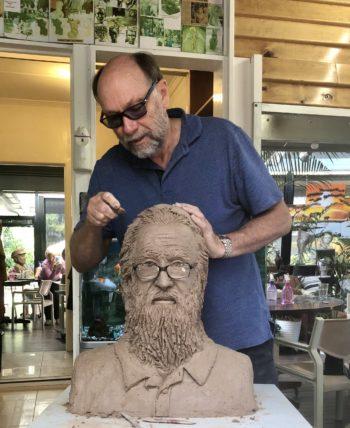 Students of all levels learn to create amazing one off original sculptures to inspire. Let me help you develop your hidden creativity and create a work of art in clay that you will be proud of.
People dotted around the room, all concentrating on their own work, music is playing, kindly banter and encouragement flow back and forth. Always Georgette is there , moving in with... read more gentle support and step by step guidance. We laugh at our work, our own special masterpiece of mud. You become friends with what you are making! The atmosphere is so relaxing, everyday problems are reduced to "Does this ear look right to you?" You are a child again!!

sal smith


October 20, 2020

I love going to my sculpture class with Georgette for several reasons. It really is relaxing and enjoyable. Georgette is fantastic with a fabulous mixture of humour and expertise... read more she encourages us all to produce some wonderful sculptures. I am in awe of the works that other people are undertaking and look forward to continuing and advancing my sculpture skills. As an added bonus everyone is welcoming and friendly and inclusive. But at the same time, you can relax and just zone out playing in clay! Thoroughly recommended.

Janet Williams


January 4, 2021

I've been attending Georgette's sculpting classes for many years (8/9/10: I've actually lost count!) and highly recommend them. Georgette is an extremely skilled, supportive and creative tutor who has aided... read more me in developing my sculpting skills and a passion for sculpting over the years I've been with her. In this time we've become good friends. All the students are friendly and welcoming, as well. We always have fun whether sculpting or on our coffee break, and I've made many friendships here over the years. Added to this, the physical environment is peaceful and soothing and it's a wonderful place to unwind and explore your creativity. 💚💖💚

Hazel Grass


August 19, 2020

I have attended Georgette's clay sculpting classes for over 6 years and find her tuition and the experience not only fun, educative and relaxing but I have also made some... read more amazing friends and made some beautiful and original sculptures for myself and my family. I would recommend these classes to anyone who wants to learn something new that is enjoyable and relaxing.

Tracy Brew


May 22, 2020

The first sculpture you make is a human head. You are able to personalise it to include any features you find interesting (different hair, eyes, etc). Georgette makes sure you... read more learn foundation skills as well as ending up with a sculpture you are proud of. The next sculpture is your choice. Because these are large sculptures and you are learning new skills it does take many weeks to finish your first project.

Nicole Wickham


October 22, 2020
Art classes as featured on The Great South East
All my Sculptures are created in Stoneware and are one-off originals accompanied by a Certificate of Authenticity.  My Gallery – is situated in Birkdale where you can view many more and some that are not as yet listed on here. 
Looking for that special gift or centre piece? A custom made sculpture is a far more meaningful gift than a bought item and one that is truly unique for that lasting impression.
Has a sculpture you love cracked or broken? Georgette can expertly repair your sculpture back to its original condition.

About Me
What is art? To some people it's something they buy, to either decorate their wall, or to decorate their furniture, like a piece of sculpture. Art to me, is something quite different. I strongly believe that art is an experience, and it has to be experienced.
Ever since I can remember, I have always enjoyed creating art. Now I help others experience the joy and inner peace of creating art.
from student classes and sculptures

Beginner is Libby, who started last Thursday and the clay sculpturing classes in
Read More »