Get your
hands dirty
Clay is good for the skin and soul.
Theraputic and beneficial to your health
Watch Video of Classes
Art Therapy
Create beautiful works of art
while relaxing in a stress free environment
Sculpture Classes
Welcome to my Art Therapy!
Learn to control Stress. Depression and Anxiety should not be a normal part of our life. Let me help you develop your hidden creativity and create a work of art in clay that you will be proud of.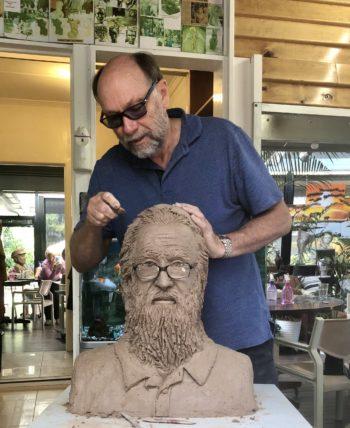 Students of all levels learn to create amazing one off original sculptures to inspire. Let me help you develop your hidden creativity and create a work of art in clay that you will be proud of.
Georgette's sculpture classes are an amazing way to learn a new skill. Georgette is a an excellent teacher who balances showing you what you need to do but allowing... read more you to do it and learn but at the same time makes sure that you take home an amazing sculpture. I have found working with the clay very therapeutic and relaxing for me. It is a great way to lead into the weekend and more importantly is done with a group of friendly people. It is a night I look forward to each week. Would highly recommend for anyone to try.

Lyndal McGregor


April 22, 2021

Georgette is extremely talented and provides excellent tuition. I thoroughly enjoy spending the day at the studio relaxing and creating my clay sculptures. I highly recommend these classes.

Nicole Rahaley


June 30, 2021

Georgette began by introducing me to the basics of sculpture. Over several weeks we worked on a life-sized head. Georgette assured me I would eventually produce a sculpture I would... read more be happy with. Georgette was right. I was amazed at what had been achieved. My second sculpture was one of personal choice. It was more hands-on as I had gained confidence. Although the students may be at different stages of their sculpting, Georgette was able to move seamlessly between each person with appropriate guidance, helpful suggestions or words of encouragement. I highly recommend Georgette as a teacher of sculpting.

Fay Harper


February 25, 2021

A few years ago I created my beautiful sculpture in Georgette's class which I'm really proud of. Recently my cat (whilst trying to catch a gekko!) knocked her on the... read more floor. Georgette was amazing in helping to restore her back to her former beauty. Such a talented lady!!

Cherry Wills


April 28, 2021

I have attended Georgette's clay sculpting classes for over 6 years and find her tuition and the experience not only fun, educative and relaxing but I have also made some... read more amazing friends and made some beautiful and original sculptures for myself and my family. I would recommend these classes to anyone who wants to learn something new that is enjoyable and relaxing.

Tracy Brew


May 22, 2020

Discovering clay sculpture classes with Georgette has been a fantastic opportunity to challenge my creative mind and embrace a super fun art form. As a beginner, Georgette's "can do" hands-on... read more teaching technique gives me the confidence to bring a lump of clay to life. The studio's "no stress" atmosphere is lighthearted and socially aware of personal space. Time shared with my fellow sculpting students, who's works are inspiring, is an enriching part of my week and excellent value for the tuition.

Donna-Marie Gilpin


September 11, 2020
Art classes as featured on The Great South East
All my Sculptures are created in Stoneware and are one-off originals accompanied by a Certificate of Authenticity.  My Gallery – is situated in Birkdale where you can view many more and some that are not as yet listed on here. 
Looking for that special gift or centre piece? A custom made sculpture is a far more meaningful gift than a bought item and one that is truly unique for that lasting impression.
Has a sculpture you love cracked or broken? Georgette can expertly repair your sculpture back to its original condition.

About Me
What is art? To some people it's something they buy, to either decorate their wall, or to decorate their furniture, like a piece of sculpture. Art to me, is something quite different. I strongly believe that art is an experience, and it has to be experienced.
Ever since I can remember, I have always enjoyed creating art. Now I help others experience the joy and inner peace of creating art.
from student classes and sculptures

Brendan recently moved to Brisbane and thought he would love to Join the
Read More »